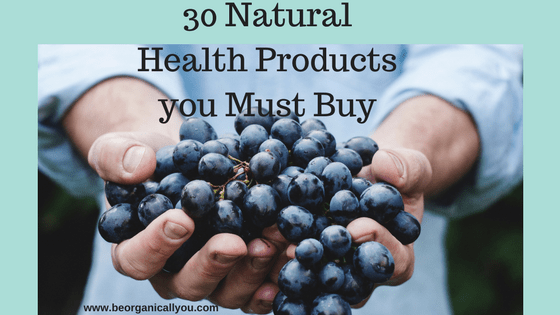 30 Natural Health Products you Must Buy
Happy December!
Have you ever wondered about Natural Health products and which ones you should try?  No one wants to break the bank trying any and everything only to be disappointed. Read below to find out which core products will serve you well.
I write this final blog post in the 12 Months to a Healthier You Series in amazement at how fast the year has gone! Do any of you feel like you need a do over?  *Raises hand*  I always find myself needing more time to get everything done.
I found this little gem on a work from home/make extra income website, and feel it will be very helpful for focusing and getting things done! I definitely plan on putting this productivity planner to good use in the coming year to complete my goals, and I recommend you do as well.  It's free so why not?  You know me-I love free!
I truly hope you have benefited from the series and that the end of 2017 has you in much better health than the beginning of the year. If you missed any part of the series be sure to start with January 2017 and work your way down to this post on the blog!  Also, if you missed the free Healthy Me Planner then be sure to go read about it, and get your free copy here.   Or if you don't need to read about it because you already know it's something you want, fill out the box below and it's yours!
For the end of the year and series, I've decided to list 30 Natural Health products you must buy. These are products, items, or companies that I can't live without! They have all been used by me and have helped me in my health journey and have proven to be very effective.  This is just my personal opinion and I do realize that everyone may not feel the same about these products.  Definitely use what works for you.  But if you've been looking for some natural health and wellness staples in your life, give these items, products, or companies a try. I want to pass them along to you in hopes that they will help you too.
This may be the end of the 12 Months to a Healthier Me series, but I hope it's not the end of your health journey! I want to thank all of you for being around for Year 1 of the blog.  It means a lot to me.  This been not only a health journey for me, but a new life journey as well!
I hope you will stick around as BeOrganicallYou grows. With all beginning projects comes growing pains and learning curves.  BeOrganicallYou has gone through both and has come out on the other side better and stronger!
Stay tuned for so much more in the coming year!
I've said this before, but thanks also to those who have reached out and shared their personal health journeys and stories with me. It's so encouraging and it's why I do this!   Please keep sharing.  I may do a series of stories from my audience about their health journeys at some point.  Just an ideal I'm toying with right now.  Let me know what you think. I will also be discussing my own health journey with fibromyalgia sometime next year for sure!
I wish you all much love, peace, abundance, happiness, fulfillment, blessings, and of course good health!
Happy holidays to all and see you on the other side of 2018!
In no particular order, here are 30 natural health products, items, or companies, I can't do without!  Just click on the name of each product and it will conveniently take you to it.
Primal Organics Tooth Powder and Gum Serum
They also have a whole kit that has the tooth powder, gum serum, and charcoal toothbrush which I recommend. But if money is tight start off with the toothpowder, you won't be sorry. The toothpowder last a really long time. A little goes a long way.  My teeth and gums are much healthier since using this.  The ingredients are: Bentonite Clay**, Activated Charcoal** (Black formula ONLY), White Kaolin Clay, Baking Soda (aluminum free)**, French Green Clay**, organic Essential Oil of choice. **Food Grade
All wonderful goodness for your mouth and toxic free unlike regular toothpaste and products.
All natural and organic loose leaf spearmint blend for women's hormone health. This tea is great for unwanted hair, acne, and hair loss. What's awesome about the tea is that it helps get rid of unwanted hair (think face, chin, etc.,), but helps keep hair where it belongs (on your head). How it does that I don't know, but those annoying facial hairs us ladies can get as we get older are annoying. Get rid of them with this tea that offers so many more benefits. I've definitely noticed a difference!
Have you heard of Naturoli? I discovered this company years ago and have loved them ever since. They have tons of great natural, hair, skin, and cleaning products.
There is one product in particular that will save you tons of money! If you click on the link and then type in Soap Nuts Starter Package it will bring up a nice little kept cleaning secret that not many know about-soap nuts!  This starter package has a little bit of everything in it for washing clothes, but the true star is the actual soap nuts.  You can test out the kit with the soap nuts just for fun, and then if you like the soap nuts, you can buy those separately.  They last forever and you can wash with them over and over again.  You may look at them like I did and think no way will these little things get my clothes clean let alone allow me to use it more times with the same results. But yes my friends, it can and it does.  No more spending tons of money on washing powder.
OssoGood bone broth is the BEST bone broth in my book! They only use the best ingredients. The Beef is not only pasture-raised, but certified grass fed and finished with raising practices that go beyond organic. Add pasture-raised chickens, 100% organic veggies and herbs, gluten free, antibiotic free, hormone free, and as always, free of mysterious and natural flavors and you have a winner!
Bone Broth is great for your joints and helps arthritis sufferers- it contains chondroitin sulphates and glucosamine, the compounds sold as pricey supplements to reduce inflammation, arthritis and joint pain.
If you don't use bone broth for good health you must implement this into your life asap! Athletes, personal trainers, and the like use this but don't talk about it much…but I'm here to tell ya…this stuff will clean up your gut issues, sooth those aching joints, and so much more. When you're in a hurry or if you just like the convenience, you can try this bone broth powder instead.  Kettle and Fire bone broth runs a close second for me as far as bone broths go.
Bonus: use the promo code: BEORGANICALLYOU to get $10 off your first order.
They also have added amazing soups to their menu! They are delicious!
Have you all heard of Thrive Market?  It has your favorite organic and non-gmo brands for up to 50% off retail! Paleo, Gluten-free, Vegan, Non-GMO, Organic, Raw.
I can't tell you how much time purchasing from this site has saved me.  We all want to eat healthier. My purchases from Thrive (especially their healthy snacks for when I'm on the go), have helped me to eat healthier when I'm starving but don't have time to eat at that moment.
Check them out and get 25% off your first order.
These are pure, organic, effective, and the best I've used thus far!
You can read about them here or purchase here.
Have you heard of this product? It's great for getting rid of those annoying moles. All natural with no fillers, just pure oils, and a 90-day money back guaranteed. I have tried so many products that claim to remove moles and skin tags with no results, that I was skeptical about using it. But it actually works!  You can read about it here or purchase here. They also have a skin tag removal product that I've never tried but heard it works also.
Get $10 off your first order of H-Mole.
Farm Fresh brings the season's best mix of 100% certified-organic produce and hand-crafted farm products conveniently to your door by growing and partnering with local farms and artisans. Each delivery comes with news about the family farm, delicious recipes, and quick tips. There's an option to customize your box online
Get $15 off your first box of farm fresh to you.
Organic Castor Oil Perfect Eyelashes Growth & Eyebrow Thickener Strengthen Grow & Restore Natural Pure
Are you less than satisfied with your thinning eyebrows or eyelashes? Use this cold pressed, hexane free, organic castor oil in a convenient eyelash tube for easy application.
Secura S-192 Hair and Facial Steamer
This steamer is great for your hair and face. It is extra moisturizing and will have your hair and face looking its best.
Thayers Alcohol-free Rose Petal Witch Hazel with Aloe Vera
This toner is great for your face. It's really refreshing and deep cleans those pores all while giving your face what it needs for clear skin. Everyone should be using a toner on their face every day anyway so why not use a great one without harsh ingredients that strip your face of natural oils that it needs.
Aztec Secret – Indian Healing Clay – 1 lb. | Deep Pore Cleansing Facial & Healing Body Mask
This product is also great for deep cleaning those pores. It's 100 natural bentonite clay and contains no additives or fragrances. I have seen quite an improvement in my skin using this.
 Asana By Ladies Balance Maca + Vitex + Green Tea Women's Hormone Balance Supplement
If you're having hormone imbalance problems give this product a try. It helps with balancing hormones and detoxing and has all natural ingredients, is GMO free, and has no fillers, binders, or artificial ingredients.
These bath salts are 100% Pure Dead Sea Bath Salts known to cleanse, purify & fight cellulite and is also rich in vital healing minerals, the essential oils are organic as well.
Taking a detox bath not only boosts your health and well-being, but it also strengthens your immune system and prevents disease.
I just started using this stuff so I will keep you posted on it. But I can tell you that I love it so far and I can tell that my body is detoxing. Now let's see if it works on the other stuff!
Chef's Star Glass Water Bottle 6 Pack
These glasses are great for storing liquids without having to worry about chemicals or toxins leeching into the bottle. The bottles are PBA and lead free. If you want better taste than use these bottles. They're also stylish too.
Did you know that a majority of the population is magnesium deficient? Soil depletion, environmental factors, and much more have caused an alarming magnesium deficiency rate. This is unfortunate as magnesium deficiency can cause many unhealthy symptoms. Most people will not get enough magnesium through food, and maybe not even with supplements. As an enhanced supplemental tool try adding magnesium lotion. You need to wear lotion anyway to help your skin so why not get a lotion that has an added bonus in it.
This lotion is organic and of a very high potency. Put it on before bedtime for a relaxing sleep. No dyes, added scents or colors either. This high potency organic lotion when applied to the skin can go directly to the cells where it's needed! I also love the convenient tottle bottle which can be stored upside down to get out every last beneficial drop!
 "Lil' Mo' Maggie" MAGNESIUM LOTION for BABIES & CHILDREN – Described as "CALM in a Bottle"
They also have a lotion formula for babies too!
I don't know about you but with all the news about cell phones and the radiation causing brain cancer in some people I knew I had to do something! I brought this nighty little handset that plugs into your cell phone. You talk through it instead of always having your head up against your cell phone. A head set will work too but I like using this device. It takes me back to the past with the old phone sets we use to have. Can you say nostalgia?
It helps to reduce radiation, had good sound quality, and works with most smartphones.
Aquasentials Easy Lotion Applicator
If you're like me and can't always reach those challenging places on your back to put your lotion on, then this little handy device is for you. Buy it and lotion down that back to your hearts content.
 Two Blue Glass Spray Bottles with Black Trigger Sprayer.16 oz Refillable Bottle for Essential Oils,Cleaning Products,Aromatherapy,Organic Beauty Products.Stream and Spray
This pretty blue spray bottle is perfect for essential oils, cleaning products, aromatherapy, or other liquids. The blue glass protects against harmful UV rays.
EtechMart 110V Portable Electric Heating Lunch Box Meal Heater w/ 1.5 Liter Removable Stainless Steel Container
This lunch box is nontoxic and made of food grade PP plastic and stainless steel. You can heat your food up anytime and anywhere indoors and it will keep warm for several hours.  I use this for my lunch at work instead of using the harmful microwaves.
 Bragg Organic Herbs And Spices Seasoning – Sea Kelp
Instead of using salt for seasoning try this healthy seasoning instead.
This seasoning is rich in minerals, and has a combined 24 herbs and spices for tasty and healthy foods. The ingredients include: kelp, rosemary, onion, garlic, thyme, red bell pepper, carrot, tomato, black pepper, basil, Bragg Organic Extra Virgin Olive Oil, parsley, tarragon, lemon peel, orange peel, Bragg Organic Apple Cider Vinegar, celery seed, dill seed, oregano, savory, sage, ginger, coriander, bay leaf, turmeric. All organic!
 Nature's Way Organic Elderberry Zinc Lozenges
Feel a cold coming on? This is an easy way to keep your immune system up. Zinc and Elderberry will stop sickness in its tracks if you starting taking it early enough.  These lozenges are made with organic brown rice syrup and are gluten free.  They also have vitamin C.  No artificial preservatives, flavors or colors. Kosher. Free of gluten.
 Salviso Blue Light Blocking Computer Glasses
Protect your eyes from harmful blue rays of digital screens (computer, LED TV, iPad, tablet, mobile phone, games) with these glasses. If you wear them at night before going to bed you may improve your sleep quality.  They also are good for preventing tires and sore eyes from sitting in front of a screen for long periods of time.
Have you heard of dry brushing? That's what I use this brush for. It helps revitalizes the skin by exfoliating dead skin and also promotes blood circulation. Dry brushing helps remove toxins from the skin. .
 HotelSpa Fusion Vitamin C Chlorine Removing Shower-Head. 7-Setting Water Conditioning Handheld Shower with Overhead Bracket
I absolutely adore this shower head! It's so luxurious and has the latest filtration technology. You can choose from a range of settings also. It automatically infuses water with vitamin C as you shower. It also helps reduce chlorine from your shower water and has a refillable cartridge.
7 Piece All In One Garden Tool Set with 5 Sturdy Stainless Steel Tools, Heavy Duty Folding Stool, Detachable Canvas Tool Bag
If you love gardening like me then you will love this. It's an all-in-one garden tool set with a heavy duty folding stool, storage bag, and stainless steel tools.
I won't be without my spirulina. It has tons of great health benefits and it great for your cardiovascular system, eyes, and brain. It also boosts energy and supports the immune system. I definitely notice a difference when I don't take it. It naturally contains protein, iron, beta carotene, minerals, vitamin B12, zeaxanthin, chlorophyll, and phycocyanin. It is non-GMO and free of gluten, soy, lactose, and preservatives. Winning!
Bioscience Liver Cleanse Detox and Repair
If you do nothing else, then at minimum be sure to clean your liver twice a year. The liver is at the core of everything.  If it's full of toxins it will affect all parts of your body. 
It has 22 plant based ingredients all used to promote optimum health. Also non-GMO, and allergen free with no binders, fillers, preservatives, soy, gluten, dairy, shellfish, peanut and egg.
 That's it yall! I hope you will try some of these amazing products.  I'm not easily impressed so I will never recommend an affiliate that I don't believe in. Just click on the link of each product name and it will conveniently  take you to it.
Consider joining the Resource Library to get even more goodies that are only accessible through the library.  These health resources are totally free.
Later my friends…until next time. And don't forget to..
#beorganicallyou
#eatwellbewellrepeat
#becausebeinghealthyisboss
This post contains affiliate links. Click here if you want to read it.