Happy December!
Have you ever wondered about Natural Health products and which ones you should try?  No one wants to break the bank trying any and everything only to find out it's ineffective. Read below to find out which natural health products actually do what they claim to do and work.
For the end of the year I've decided to list 30 Natural Health products you must buy. These are products I can't live without! They have all been used by me and have helped me in my health journey and have proven to be very effective.  So if you've been looking for some natural health and wellness product staples in your life, then give these a try. I want to pass them along to you in hopes that they will help you too.
I've said this before, but thanks to those who have reached out and shared their personal health journeys and stories with me. It's so encouraging and it's why I do this!   Please keep sharing.  I may do a series of stories about my audience and their health journeys at some point.  Just an idea I'm toying with right now.  Let me know what you think.
I wish you all much love, peace, abundance, happiness, fulfillment, blessings, and of course good health!
Happy holidays to all!
In no particular order, here are 30 natural health products I can't do without!
Tooth Powder and Gum Serum
They have a kit that has the tooth powder and gum serum which I recommend. But if money is tight start off with the toothpowder, you won't be sorry. The toothpowder lasts a really long time. A little goes a long way.  My teeth and gums are much healthier since using this. Ask my dentist!  He even asked me what I had been doing differently at my last checkup.  The ingredients are: Bentonite Clay**, Activated Charcoal** (Black formula ONLY), White Kaolin Clay, Baking Soda (aluminum free)**, French Green Clay**, organic Essential Oil of choice. **Food Grade.  Their teeth whitening system is top notch as well.
All wonderful goodness for your mouth and toxic free, unlike regular toothpaste and products.
Naturoli
Have you heard of Naturoli? I discovered this company years ago and have loved them ever since. They have tons of great natural, hair, skin, and cleaning products.
There is one product in particular that will save you tons of money! Soap Nuts is a nice little kept cleaning secret that not many know about!  The starter package has a little bit of everything in it for washing clothes, but the true star is the actual soap nuts.  You can test out the kit with the soap nuts just for fun, and then if you like the soap nuts, you can buy those separately.  They last forever and you can wash with them over and over again.  You may look at them like I did and think no way will these little things get my clothes clean let alone allow me to use them more than once with the same results. But yes my friends, they do.  No more spending tons of money on washing powder.
Bone Broth
OssoGood bone broth is the BEST bone broth in my book! They only use the best ingredients. The Beef is not only pasture-raised but certified grass-fed and finished with raising practices that go beyond organic. Add pasture-raised chickens, 100% organic veggies and herbs, gluten-free antibiotic free, hormone free, and as always, free of mysterious and natural flavors and you have a winner! They also have delicious paleo soups and cleanses.
Bone Broth is great for your joints and helps arthritis sufferers- it contains chondroitin sulphates and glucosamine, the compounds sold as pricey supplements to reduce inflammation, arthritis and joint pain.
If you don't use bone broth for good health you must implement this into your life asap! Athletes, personal trainers, and the like use this but don't talk about it much…but I'm here to tell ya…this stuff will clean up your gut issues, soothe those aching joints, and so much more. When you're in a hurry or if you just like the convenience, you can try this bone broth powder instead.  Kettle and Fire bone broth runs a close second for me as far as bone broths go.
Thrive Market
Have you all heard of Thrive Market?  It has your favorite organic and non-GMO brands for up to 50% off retail! Paleo, Gluten-free, Vegan, Non-GMO, Organic, Raw.
I can't tell you how much time purchasing from this site has saved me.  We all want to eat healthier. My purchases from Thrive (especially their healthy snacks for when I'm on the go), have helped me to eat healthier when I'm starving but don't have time to eat at that moment.
Use this link to get 25% off your first order.
Paleo Valley
I'm addicted to their sweet potatoe snickerdoodle cookies and beef sticks.  The beef sticks are perfect when you're on the go and they are 100 % grass-fed.  They also contain naturally occurring probiotics due to their fermentation process instead of additives.  We all know the awesome benefits of probiotics.  So to get them in your body in this way is great.
MADE OF Baby Products
If you're a crunchy mama or just want better alternatives for your baby when it comes to baby products, then look no more.  Their line of wipes, bath products, and diapers are organic, vegan, gluten-free, and EWG. Yes!
100 % Pure
Speaking of skincare, have you heard of 100 % Pure? Their commitment to producing the purest, healthiest products and educating everyone on why products need to be 100% pure is so important just shines through!  As if that isn't enough, they actually have excellent hair care, body, and makeup products as well! You can get free shipping on orders of $50 or more.
Ecotherapeutic Essential Oils
These essential oils are pure, organic, effective, and the best I've used thus far!
You can read about them here or purchase here.   If you're really into essential oils then consider Using Essential Oils to the Fullest-how to make the most out of essential oils.
H-Moles
Have you heard of this product? It's great for getting rid of those annoying moles. All natural with no fillers, just pure oils, and a 90-day money back guaranteed. I have tried so many products that claim to remove moles and skin tags with no results, that I was skeptical about using it. But it actually works!  You can read about it here. They also have a skin tag removal product that I've never tried but heard it works also.
Get $10 off your first order of H-Mole.
Perfect Eyelashes Growth & Eyebrow Thickener and Strengthener
Are you less than satisfied with your thinning eyebrows or eyelashes? Use this cold pressed, hexane free, organic castor oil in a convenient eyelash tube for easy application.  It grows your eyelashes and thickens your eyebrows.
Hair and Facial Steamer
This steamer is great for your hair and face. It is extra moisturizing and will have your hair and face looking its best.
Toner
This toner is great for your face. It's really refreshing and deep cleans those pores all while giving your face what it needs for clear skin. Everyone should be using a toner on their face every day anyway so why not use a great one without harsh ingredients that strip your face of natural oils that it needs. It is alcohol-free and has great ingredients for your face like witch hazel, aloe vera, and rose petals.
Facial & Healing Body Mask
This facial and healing body mask is also great for deep cleaning those pores. It's 100 natural bentonite clay and contains no additives or fragrances. I have seen quite an improvement in my skin using this.
Hormone Balance Supplement
If you're having hormone imbalance problems give this product a try. It helps with balancing hormones and detoxing and has all natural ingredients, is GMO-free, and has no fillers, binders, or artificial ingredients.
 DETOX & SLIM DOWN Bath Salts
These bath salts are 100% Pure Dead Sea Bath Salts are known to cleanse, purify & fight cellulite and is also rich in vital healing minerals, the essential oils are organic as well.
Taking a detox bath not only boosts your health and well-being, but it also strengthens your immune system and prevents disease.
I just started using this stuff so I will keep you posted on it. But I can tell you that I love it so far and I can tell that my body is detoxing. Now let's see if it works on the other stuff!
Chef's Star Glass Water Bottle 6 Pack
These glasses are great for storing liquids without having to worry about chemicals or toxins leeching into the bottle. The bottles are PBA and lead-free. If you want better taste than use these bottles. They're also stylish too.
Magnesium Lotion
Did you know that a majority of the population is magnesium deficient? Soil depletion, environmental factors, and much more have caused an alarming magnesium deficiency rate. This is unfortunate as magnesium deficiency can cause many unhealthy symptoms. Most people will not get enough magnesium through food, and maybe not even with supplements. As an enhanced supplemental tool try adding magnesium lotion. You need to wear lotion anyway to help your skin so why not get a lotion that has an added bonus in it.
This lotion is organic and of a very high potency. Put it on before bedtime for a relaxing sleep. No dyes, added scents, or colors either. This high potency organic lotion, when applied to the skin, can go directly to the cells where it's needed! I also love the convenient tottle bottle which can be stored upside down to get out every last beneficial drop!
Magnesium Lotion for babies and children – Described as "CALM in a Bottle"
They also have a lotion formula for babies too!
 VTech LS916 Retro Handset
I don't know about you but with all the news about cell phones and the radiation from them causing brain cancer in some people, I knew I had to do something! I brought this handset that plugs into your cell phone. You talk through it instead of always having your head up against your cell phone. A headset will work too but I like using this device. It takes me back to the past with the old phone sets we use to have. Can you say nostalgia?
It helps to reduce radiation, has good sound quality, and works with most smartphones.
Lotion Applicator
If you're like me and can't always reach those challenging places on your back to put your lotion on, then this little handy device is for you. Buy it and lotion down that back to your hearts content.
 Spray Bottles for Essential Oils, Cleaning Products, Aromatherapy, and Organic Beauty Products
This pretty blue spray bottle is perfect for essential oils, cleaning products, aromatherapy, or other liquids. The blue glass protects against harmful UV rays.
Portable Electric Heating Lunch Box Meal Heater 
This lunch box is nontoxic and made of food grade PP plastic and stainless steel. You can heat your food up anytime and anywhere indoors and it will keep warm for several hours.  I use this for my lunch at work instead of using harmful microwaves.
Organic Herbs And Spices Seasoning 
Instead of using salt for seasoning try this healthy seasoning instead.
This seasoning is rich in minerals and has a combined 24 herbs and spices for tasty and healthy foods. The ingredients include: kelp, rosemary, onion, garlic, thyme, red bell pepper, carrot, tomato, black pepper, basil,  Organic Extra Virgin Olive Oil, parsley, tarragon, lemon peel, orange peel, Organic Apple Cider Vinegar, celery seed, dill seed, oregano, savory, sage, ginger, coriander, bay leaf, turmeric. All organic!
Organic Elderberry Zinc Lozenges
Feel a cold coming on? This is an easy way to keep your immune system up. Zinc and Elderberry will stop sickness in its tracks if you starting taking it early enough.  These lozenges are made with organic brown rice syrup and are gluten-free.  They also have vitamin C.  No artificial preservatives, flavors or colors. Kosher. Free of gluten.
 Computer Glasses
Protect your eyes from harmful blue rays of digital screens (computer, LED TV, iPad, tablet, mobile phone, games) with these glasses. If you wear them at night before going to bed you may improve your sleep quality.  They also are good for preventing tires and sore eyes from sitting in front of a screen for long periods of time.
 The Fuzz Brush 1 Brush
Have you heard of dry brushing? That's what I use this brush for. It helps revitalizes the skin by exfoliating dead skin and also promotes blood circulation. Dry brushing helps remove toxins from the skin.
 Hotel Spa Fusion Vitamin C Chlorine Removing Shower-Head
I absolutely adore this shower head! It's so luxurious and has the latest filtration technology. You can choose from a range of settings also. It automatically infuses water with vitamin C as you shower. It also helps reduce chlorine from your shower water and has a refillable cartridge.
7 Piece All In One Garden Tool Set 
If you love gardening like me then you will love this. It's an all-in-one garden tool set with a heavy duty folding stool, storage bag, and stainless steel tools.
Spirulina
I won't be without my spirulina. It has tons of great health benefits and it great for your cardiovascular system, eyes, and brain. It also boosts energy and supports the immune system. I definitely notice a difference when I don't take it. It naturally contains protein, iron, beta-carotene, minerals, vitamin B12, zeaxanthin, chlorophyll, and phycocyanin. It is non-GMO and free of gluten, soy, lactose, and preservatives. It also helps remove heavy metals out of your body.  Unfortunately, everyone has some heavy metals in their body.  Heavy metals can cause all kinds of symptoms including seizures if you have enough of them built up in your system.  That's why it's so important to detox and take supplements that help get rid of them. Make sure you're getting a quality spirulina like this one.
Liver Cleanse Detox and Repair
If you do nothing else, then at minimum be sure to clean your liver twice a year. The liver is at the core of everything.  If it's full of toxins it will affect many parts of your body. 
It has 22 plant-based ingredients all used to promote optimum health. Also non-GMO, and allergen-free with no binders, fillers, preservatives, soy, gluten, dairy, shellfish, peanut, and egg.
 That's it yall! I hope you will try some of these awesome products.  I'm not easily impressed so I will never recommend a product that I don't believe in.
Meal Planning
The $5 Meal Plan is a weekly meal plan service.  $5 Meal Plan is a real game changer. The best part? You can choose between the Classic Plan & the Gluten-Free Plan! Yes! This is awesome for those needing (or just wanting) to go gluten-free. How it works is each week you get a meal plan and a shopping list. It will include 6 Dinner Meals, a Breakfast, a Lunch, a Snack and a Dessert (and occasionally a Side Dish or other tasty treat!) all together on the same plan. As the name suggests, each meal is designed to cost under $5.  Using this service has saved me time and time again when I'm strapped for time and fresh out of ideas. Sometimes I get so bored with the same old foods.  This service has brought some excitement back into my food life. ha!
Home Testing
Many of you have asked me about at-home lab testing. I like EverlyWell for their affordability, accuracy and user-friendly instructions.  These test can really be eye-opening if you don't have a clue on what might health issues might be affecting your body.
Home Spray
If you're concerned about using harmful sprays in your home, this is the perfect solution. This natural probiotic spray restores the balance of healthy bacteria to your home, helps prevent the growth of mold & mildew, and will even eliminate the cause of musty odors.
If you are looking for ways to be healthy then these are must have products.  Many just think in terms of food when they think of being healthy, but health is a holistic effort and encompasses many areas.  You may not be able to purchase everything but if you make a commitment to purchase a couple of things each month by the end of the year you will have quite an impressive arsenal of health products that will help you feel your best and stay as healthy as possible.
Cheers to good health!
In the meantime don't forget to…
#beorganicallyou
#eatwellbewellrepeat
#becausebeinghealthyisboss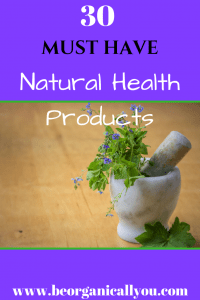 This post may contain affiliate links.